OneFootball offers the purchase and viewing of live football matches right inside the app. The availability of a match or competition may be restricted to certain locations and sometimes languages.
More information and conditions on how to watch a live match are communicated in the Watch tab inside the Match page.
Where can I have access to all the live-streamed matches
To know which games are available for you to watch, you can now navigate on our new TV tab on the app. This is THE place for you to browse for video content. Whether it's our livestreams, highlights, clips or shorts, you will definitely find what you are looking for here! 
How to purchase a game
You can purchase a game as soon as you can see the option to buy it inside the match Watch tab.
The payment is handled based on your device store payment method available - via Google, Huawei, or Apple in-app purchases. All you need to do is tap on the Buy now button and validate your payment method.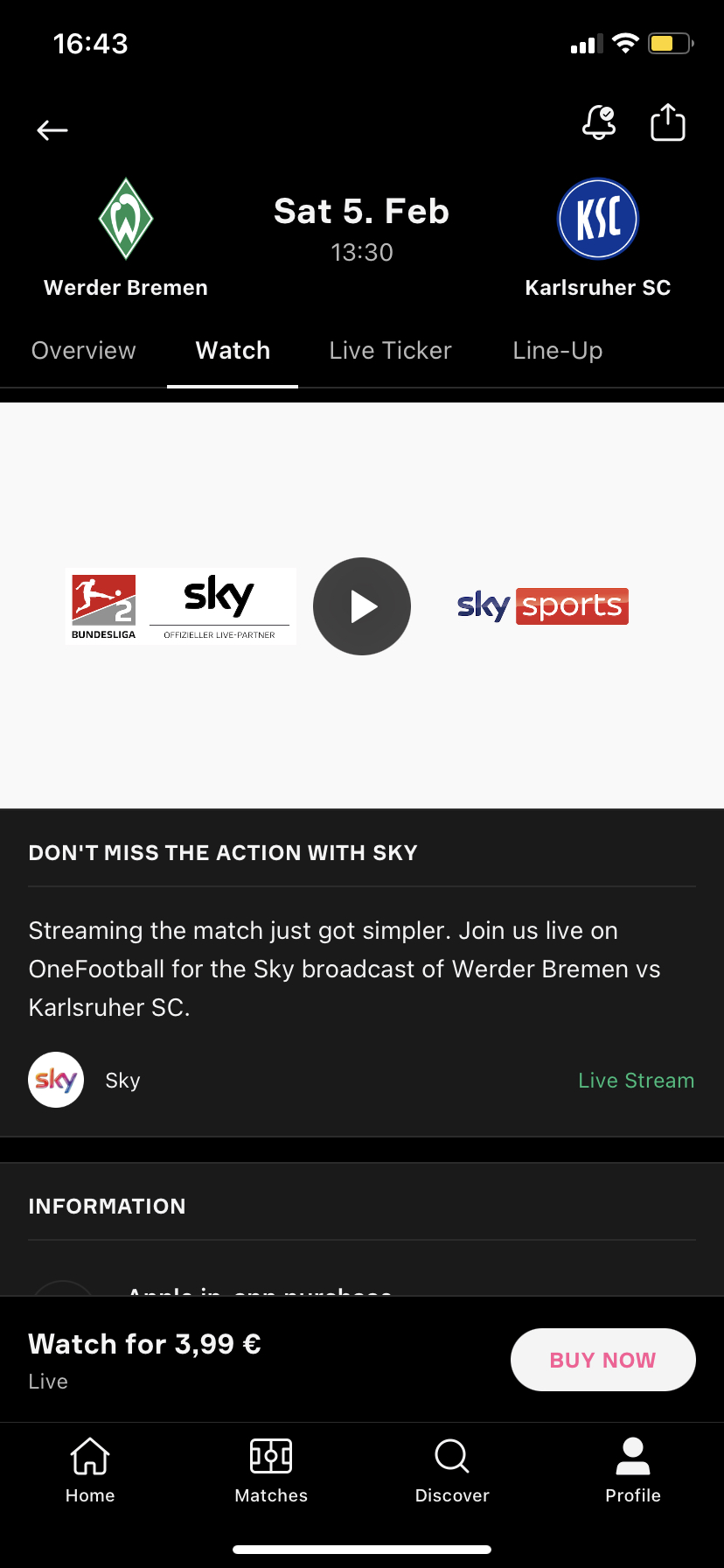 Do I need a subscription?
You don't! This is a pay-per-view purchase model and you can pay for single matches.
If a competition is not shown at my location, can I use VPN?
Unfortunately, no. The offers are currently only available for users at specific locations. You will not be able to watch a game with a VPN.
Stream availability and start time
Once you have access to watch the game, it will only be available while it is live.
A few minutes before the kickoff, there will be a countdown screen or a pre-game show.
Can I go back and forward on the stream while it is live?
Yes, but you can only rewind by ten minutes. As soon as the game is done, the stream finishes and you can't watch it again or scroll back.
What languages are available for which streams?
You can check the game information specifically for the commentary language in the game information section under the video player in the watch tab.
Screencast feature
Screencasting or mirroring is only available for some competitions due to broadcasting rights and agreements with the stream providers.
So, if you don't see the button to screencast it is because the feature is not available for the match/ competition in question.
Streaming on a different device
You can watch the game on the device have you used to purchase it, or any other mobile device (smartphone, tablet) that uses the same Apple or Google account.
Video quality of the stream
The video quality will regulate automatically based on the speed of your connection.
You can watch the game both on Wifi or using mobile data.
Technical requirements
Your device meets the technical requirements for viewing if you see purchase and streaming options in the Watch tab. To complete in-app purchases, Apple or Google payment details must be valid on your respective accounts.
Notifications during the stream
We want to offer the best possible game streaming experience, so we will automatically deactivate all match-related notifications (inc. goal pushes) for the match you are currently watching in full screen. So even if the delay is eventually a bit longer, you will never get spoiled by a OneFootball push notification banner or pop-up for that particular match.